Captain Tommy Robinson and his custom built 31' boat the "Sea Legs"
are ready to take your group or family on an exciting deep sea fishing charter or private sightseeing excursion throughout the Naples, Florida area waters. The Sea Legs is geared for up to 6 passengers and has a restroom, galley, dinette, shaded cockpit and modern electronics.
Over 25 yrs experience
Knowledge of "secret fishing holes"
Half day, three quarter day and full day excursions.
Night fishing and private sightseeing are also available.
Tackle from light to heavy, ice, bait, and license is included.
A Captain and 1st Mate to serve you.
Only the finest equipment and supplies
Fishing Charters & Sightseeing Excursions
Call for your special rate! 239-263-8171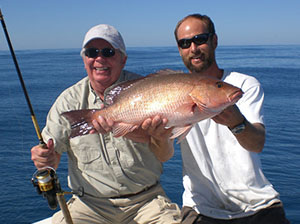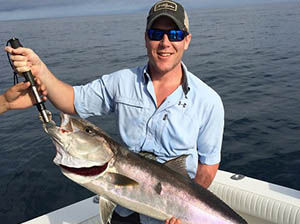 Hello Anglers!
Season is in full swing and the fishing off Naples is red hot. Red grouper catches are open and the 20 plus inch fish are abundant. Mangrove snapper is my favorite target. This tasty fish loves the murky water after a front passes through. I think they are hungry and cannot see our fishing line as easy. Kingfish have settled in for the winter giving the angler a good run off the spool.
Yesterday we had a 5 foot black tip shark take a swipe at a snapper being reeled up from the bottom. He actually leaped out of the water after it. I wish we had video. It would have gone viral!
Give me a call or e-mail me and I will work hard to accommodate your every request.