Captain Tommy Robinson and his custom built 31' boat the "Sea Legs"
are ready to take your group or family on an exciting deep sea fishing charter or private sightseeing excursion throughout the Naples, Florida area waters. The Sea Legs is geared for up to 6 passengers and has a restroom, galley, dinette, shaded cockpit and modern electronics.
Over 25 yrs experience
Knowledge of "secret fishing holes"
Half day, three quarter day and full day excursions.
Night fishing and private sightseeing are also available.
Tackle from light to heavy, ice, bait, and license is included.
A Captain and 1st Mate to serve you.
Only the finest equipment and supplies
Fishing Charters & Sightseeing Excursions
Call for your special rate! 239-263-8171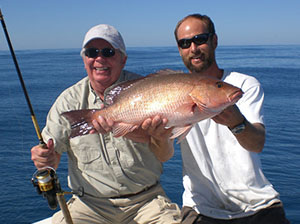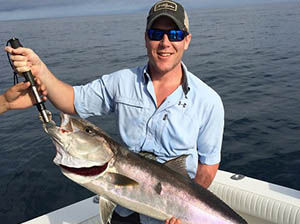 Hello to our summer vacationers!
Calm seas and great fishing off Naples is in store for the 1/2 day families interested in some action and a meal or two of fresh gulf fish. You don't have to go very far and you don't have to have any experience to catch up to 60 or 70 fish on a 1/2 day. We catch around 10 different species several of which are good eating. I will filet them up for you and give instructions on how to prepare. If cooking is not in the books, there are several restaurants eager to do the work for you.
Grouper and snapper top the charts for delicious eating. Even the pickiest youngster will enjoy the mild fish that they catch themselves. I have families try this experience and go year after year. Just try it once and you will see what they have found to round out a great vacation.
Give me a call or e-mail me and I will work hard to accommodate your every request.