Captain Tommy Robinson and his custom built 31' boat the "Sea Legs"
are ready to take your group or family on an exciting deep sea fishing charter or private sightseeing excursion throughout the Naples, Florida area waters. The Sea Legs is geared for up to 6 passengers and has a restroom, galley, dinette, shaded cockpit and modern electronics.
Over 25 yrs experience
Knowledge of "secret fishing holes"
Half day, three quarter day and full day excursions.
Night fishing and private sightseeing are also available.
Tackle from light to heavy, ice, bait, and license is included.
A Captain and 1st Mate to serve you.
Only the finest equipment and supplies
Fishing Charters & Sightseeing Excursions
Call for your special rate! 239-263-8171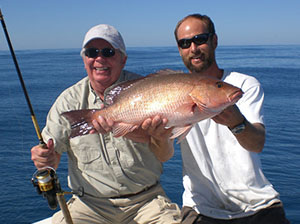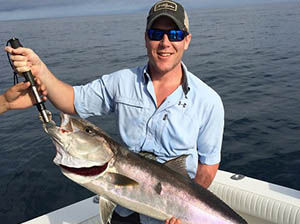 Anglers,
I've been at the fishing game for 36 years. It never ceases to amaze me how aggressive fish can be sometimes. If the tide is right, usually when it is slowing down or speeding up, you can catch a nice variety of fish in one spot. This happened just a couple of days ago. Red grouper were the first to take the bait. Mangrove snapper and yellowtail took over as soon as the grouper backed off. A tiger shark and a nurse shark capped the bite and we had only just fished one spot!
You can bet I'm going back to that honey hole as soon as I let it restock. I try and give it 2 or 3 months, depending on the fish movement and whether or not someone else is fishing nearby.
Maybe you will be on board the day I find a new untouched fishing hole. It happens more often than you think!
Give me a call or e-mail me and I will work hard to accommodate your every request.