Captain Tommy Robinson and his custom built 31' boat the "Sea Legs"
are ready to take your group or family on an exciting deep sea fishing charter or private sightseeing excursion throughout the Naples, Florida area waters. The Sea Legs is geared for up to 6 passengers and has a restroom, galley, dinette, shaded cockpit and modern electronics.
Over 25 yrs experience
Knowledge of "secret fishing holes"
Half day, three quarter day and full day excursions.
Night fishing and private sightseeing are also available.
Tackle from light to heavy, ice, bait, and license is included.
A Captain and 1st Mate to serve you.
Only the finest equipment and supplies
Fishing Charters & Sightseeing Excursions
Call for your special rate! 239-263-8171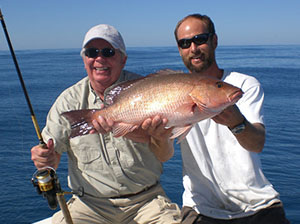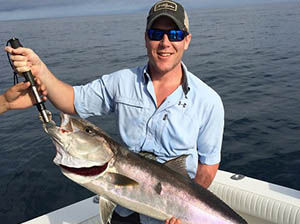 Hello Anglers!
I have not seen such good weather in many summers. Calm seas help me find more fish and my customers like the nearly flat conditions as well. I love to motor about with my sonar mapping out the bottom off of Naples. I've been fishing out here for 35 years and I still find a new spot to fish now and again. If you happen to be onboard when I do, it is always a rod bending experience. We caught a nice black tip shark the other day and it made the youngster from Illinois a catch to remember.
Give me a call or e-mail me and I will work hard to accommodate your every request.