Captain Tommy Robinson and his custom built 31' boat the "Sea Legs"
are ready to take your group or family on an exciting deep sea fishing charter or private sightseeing excursion throughout the Naples, Florida area waters. The Sea Legs is geared for up to 6 passengers and has a restroom, galley, dinette, shaded cockpit and modern electronics.
Over 25 yrs experience
Knowledge of "secret fishing holes"
Half day, three quarter day and full day excursions.
Night fishing and private sightseeing are also available.
Tackle from light to heavy, ice, bait, and license is included.
A Captain and 1st Mate to serve you.
Only the finest equipment and supplies
Fishing Charters & Sightseeing Excursions
Call for your special rate! 239-263-8171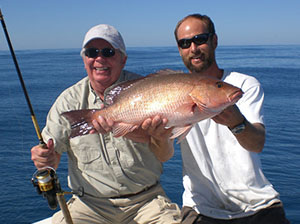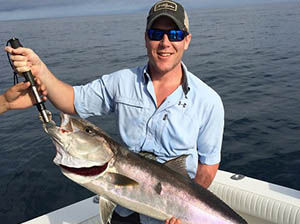 Hello Anglers!
It looks like the "red tide" has been blown away by the wind from those cold fronts. The water looks healthy and the 72 degree water has provided the right temperature for Kingfish. King mackerel have been our fall and winter fish since I can remember. They arrive off Naples this time of year and we all look forward to a change of pace from bottom fishing. I am not a huge fan of the troll method, but many customers are and we enjoy getting out the spoons and sea witches. Kings run from 5 to 50 pounds. The larger models roam around by themselves and love to take a blue runner swimming near the surface. Call me to get in on this great action.
Give me a call or e-mail me and I will work hard to accommodate your every request.