Captain Tommy Robinson and his custom built 31' boat the "Sea Legs"
are ready to take your group or family on an exciting deep sea fishing charter or private sightseeing excursion throughout the Naples, Florida area waters. The Sea Legs is geared for up to 6 passengers and has a restroom, galley, dinette, shaded cockpit and modern electronics.
Over 25 yrs experience
Knowledge of "secret fishing holes"
Half day, three quarter day and full day excursions.
Night fishing and private sightseeing are also available.
Tackle from light to heavy, ice, bait, and license is included.
A Captain and 1st Mate to serve you.
Only the finest equipment and supplies
Fishing Charters & Sightseeing Excursions
Call for your special rate! 239-263-8171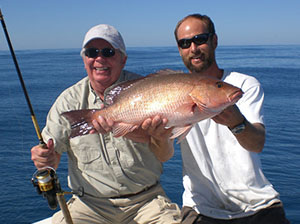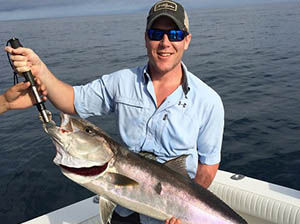 Hello Anglers!
Deep sea fishing off of Naples Florida continues to increase in popularity as the quality of boats and fishing techniques improve. Braided line strikes me as one of the best improvements in years. Grouper, snapper and small sharks are the backbone of activity on the popular 1/2 day fishing trips. Just yesterday I took Mike and Renee Rodin out for a 4 hour trip. We boated gag and red grouper along with some nice mangrove snappers. They took the fish home for dinner after I filleted them. I will see them again in the fall. Fishing on my boat is always a good experience. Kids and adults get to fish together competing in the biggest fish contest. Don't let the phrase "Deep Sea Fishing" scare you off. We do not go very far on a 1/2 day fishing. We were only 4 miles off yesterday.
Give me a call or e-mail me and I will work hard to accommodate your every request.