Captain Tommy Robinson and his custom built 31' boat the "Sea Legs"
are ready to take your group or family on an exciting deep sea fishing charter or private sightseeing excursion throughout the Naples, Florida area waters. The Sea Legs is geared for up to 6 passengers and has a restroom, galley, dinette, shaded cockpit and modern electronics.
Over 25 yrs experience
Knowledge of "secret fishing holes"
Half day, three quarter day and full day excursions.
Night fishing and private sightseeing are also available.
Tackle from light to heavy, ice, bait, and license is included.
A Captain and 1st Mate to serve you.
Only the finest equipment and supplies
Fishing Charters & Sightseeing Excursions
Call for your special rate! 239-263-8171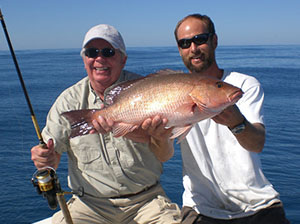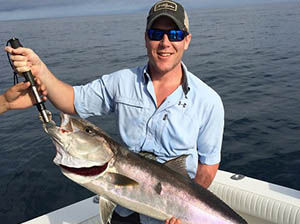 Anglers,
October brings a change of weather we all have hoped for. I used to think the cooler weather brought the fish in closer especially gag grouper. I believe they come in whether the water gets cooler or not. They have a biological clock ticking and the move will be on. The winds out of the north stir up the bottom, cloud the water and cause a rush to feed. I love the frenzy feed of a post frontal fishing trip. Jumbo sized lane snapper come out of nowhere. Mangrove snapper fight over each morsel. Call me for the latest information on this fall feast.
I enjoy returning a text at 239-450-0195.
Give me a call or e-mail me and I will work hard to accommodate your every request.