Nearshore Fishing / Offshore Fishing Charters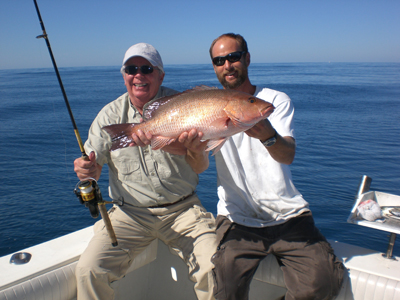 Off shore, saltwater, fishing charter and boat tours are popular activities in Naples, Florida. Enjoy a relaxing excursion to relieve the day to day pressures with fishing, sun, water, new friends and lots of fun!
Enjoy expert, off shore, saltwater fishing with a seasoned crew aboard the charter boat "Sea Legs."
Our custom built 31 foot boat, "Sea Legs" is geared for deep sea fishing charters with up to 6 passengers. "Sea Legs" is very comfortable and has a restroom, galley, dinette, shaded cockpit and modern electronics.
The boat sails on half day, three quarter day and full day excursions.
Night fishing and private sightseeing are also available.
We use the finest equipment and supplies available for offshore fishing in Naples, Florida.
Tackle from light to heavy, ice, bait, and license is included.
Food and beverage are usually up to the customer. However, special requests can be arranged.
And of course, a Captain and 1st Mate are there to serve and guide you. Captain Mike Hatcher has fished the waters off Naples for over 25 years and this experience and knowledge provides for hundreds of secret fishing holes along the Naples, Florida shoreline.
---
For your next saltwater fishing trip or vacation enjoy deep sea fishing and offshore fishing excursions
in Naples, Florida with Captain Mike Hatcher!