About Us
I started in the fishing business in 1977. Naples has always been a great place to go fishing.
Grouper, snapper, cobia, kingfish are just a few of the great species that are caught off the coast. Over the years I have come to know these waters well. I love fishing offshore, hunting down the spots that produce good fish and record them for future trips. Meeting new people on my boat, watching them tie into big fish and then take their picture, makes my day. The action on 1/2 day charters is good. It is a family trip that keeps kids as well as adults busy. Goliath grouper get up to 300 pounds and can be caught on this trip. A 3/4 day which runs about 6 hours lets me get farther offshore and access more wrecks. Legal sized grouper find their way to the dinner table on this trip as well as other species. The full day experience is my favorite to take people interested in catching a limit of grouper, snapper or kingfish when in season. As of 2011, limits of red grouper are easily caught on a full day. The fish are filleted and bagged with plenty of suggestions on how to cook them.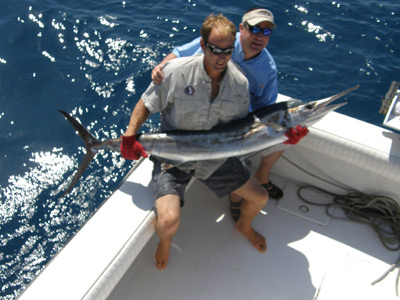 My boat was built by a local old time builder Johnny Morgan. It was custom built taking up to 6 passengers. It has a "head" or restroom, a dinette and seating. I have the most modern electronics available including radar. Tackle ranges from light to heavy duty. We catch live bait with a cast net or small hooks. This always helps catch that "bigger" fish.
The boat leaves as early as 7 a.m., but an 8 a.m. departure is fine for those who have a hard time rising. 4 hours is the standard 1/2 day time from dock to dock. 6 hours or so gives the 3/4 day plenty of time to fish and 8 hours for the all day angler. I do run a night snapper trip on occasion. They bite better when the sun goes down and it is cooler at night.
Children of course are welcome and find my boat a great place to hang out and also to fish. If it gets a little too choppy for the angler, we can always shoot inside and fish the calm waters of Naples bay and inland waterways. Action there is good with lady fish, jack, snook and red fish.
My mate enjoys taking pictures of our customers and we are glad to e-mail them to you. You might even find yourself on our website!